How to bypass windows 8 admin password without software. How to Remove or Bypass Windows 8/8.1 Admin Password without Knowing It 2019-05-15
How to bypass windows 8 admin password without software
Rating: 6,4/10

267

reviews
How to Recover or Reset Windows 8 Password (without Disk)
We would like to expose and reveal the tricks in this guide and will show you how to bypass Windows 10 password even if you don't remember it. If you happen to have a second Microsoft account you do know the password to, you'll have the option of signing in with that. Modify registry can bypass admin password to access computer. Now go ahead and reboot. However, using the third-party software is a better choice in most situations. That is why we are still writing about this old and boring topics. In here, we will share 3 useful tips to bypass Windows logon password without software or resetting the device.
Next
Reset Windows 8, 8.1 10 Password without Software
A password reset disk is tied to your specific Windows 8 account, meaning that one has to be created from within Windows, back when you actually knew your password. So if you have chosen Microsoft as your default account type then surely, you can of your account from the official website. We make a copy of the file with Ctrl+C, paste a copy of it with Ctrl+V and then press F5 to refresh. After reading this article, you must have a clear idea about how to hack Windows 8 login password. Gaining Administrator access in Windows is easy, and we can do it in a few minutes on Windows 7, Windows 8. If you don't remember your username type: net user to list all the users.
Next
How to Bypass Windows 10/7/8 Password without Resetting or Disk
How to Reset Forgotten Windows 8 Password? On the next window, select the default graphic setting by typing 1 and clicking Enter. Execute: net user myusername mynewpassword, replacing myusername and mynewpassword. In addition, it does requires to create a bootable disk to reset your computer password and we will show you how to recover Windows 10 password using Ophcrack below: Step 1. . Now boot the locked computer from the inserted reset drive to open the Windows Password Key.
Next
How to Bypass Windows 10/7/8 Admin Password without Resetting
Step 2: Once you have the disk ready, insert it into the locked computer and boot it up. Hopefully you guys found this post very helpful and were able to access your computer normally. Click Reset Password button and confirm to remove its password on pop-up dialog. That's where PassMoz LabWin comes into help. I hope that the methods mentioned above can be used as a to help you to bypass admin password on Windows 8 as well as other user passwords. However, if your only purpose is to reset your password and preserve the data in your locked system such as after a hacker has compromised your computer , then with Androidphonesoft is the recommended method to follow.
Next
How to Remove or Bypass Windows 8/8.1 Admin Password without Knowing It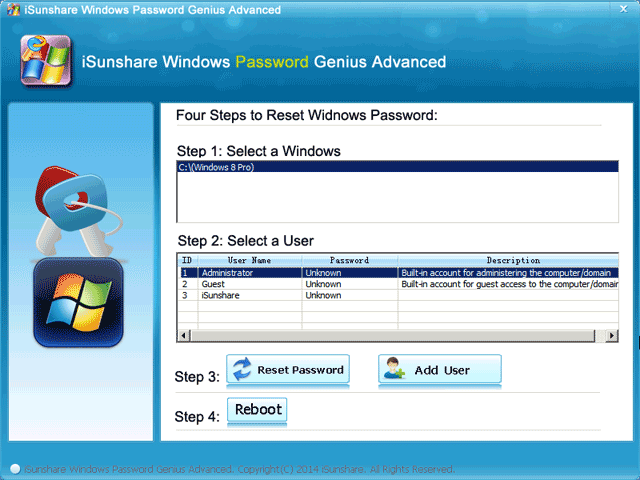 Follow the instructions on the screen and your Windows 8 reinstallation will be complete. You can choose to bypass Windows 8 password without software or use an appropriate tool to decipher the hurdle. The computer will get into desktop in default. We now just have to click on the administrator account and Sign in without a password. Without entering the correct password, no one can. Boot your computer, and temporarily change the boot-order to boot from this disk.
Next
How to Bypass Windows 10/7/8 Admin Password without Resetting
Conclusion If you have a password reset disk, or a separate administrator account for your computer then this task is pretty simple. Step 1: From your smartphone or a normal computer, go to by using a web browser. Just click the Options button at the bottom left corner, and select the Bypass Windows Password option. Apart from that, there is so much amalgamation of solutions that it has diluted the authenticity of many methods and users get confused over what to choose really. The password reset tools will only reset your forgotten Windows 8 password if you're logging on with a local account.
Next
How to Remove or Bypass Windows 8/8.1 Admin Password without Knowing It
If your username has a space use double-quotes. If we are not using the Ease of Access features, there is no haste to change the system files back. This trick is highly commendable, but your super admin account should have been activated prior to the password lock, or else it's not going to work. The following methods will only work for local accounts. Two methods are available in this case. How to Reinstate the Password Prompt If you don't want to use this feature anymore and are interested in getting your Windows password screen back, you can restore it by repeating the above steps—only this time you'll check the box in Step 2, which we have de-selected previously.
Next
How to Bypass Windows 10 Password Prompt [Also for Win 7, 8]
How to remove Windows 8 admin password? There are many paid password cracking softwares available, but I wouldn't recommend one. How to Hack a Forgotten or Lost Windows 8 Password When you forgot or lost your Windows 8 password, you're left with an expensive and useless brick unless you have your Windows 8 password reset. Hold down the Power button for at least 5 seconds to force power off your computer. Just analyse how your situation is and get the appropriate fix. This is an important step.
Next
How to Remove or Bypass Windows 8/8.1 Admin Password without Knowing It
Choose the one you prefer and proceed by following the steps outlined in the corresponding section. This can be a really awkward situation especially, if you need to use your computer urgently. If you know any method then let us know via the comment box. Select your Windows Installation and user account. Find DefaultUserName, set it as the default user name to sign in Windows. If you follow this procedure the password for your locked Windows 8 account will be eliminated and you will be able to access your Windows account again, without a password. Remember to remove the bootable media, so the system doesn't reboot back into the Lazesoft environment.
Next
How to Bypass Windows 8 Administrator and other User Passwords
Plus, it would be pointless method if you your other accounts don't have administrator rights. Forgetting your Windows 8 password is definitely a daunting experience. It will open a Command Prompt window instead of the Ease of Access menu. Here I'd like to share with you to help you bypass Windows 8 password login. D: cd windows cd system32 ren Utilman. Confirm to reset your Microsoft Surface Pro and wait for the whole process done. The new windows 10 coming.
Next